Thanks to today's advances in orthodontic technology, Gottsegen Orthodontics can provide our patients with more options when it comes to wearing braces than ever before. While traditional metal braces are still widely used, clear braces are very popular with teens and adults who are self-conscious about wearing braces, along with Invisalign removable aligners, the "braceless" alternative to straight teeth. Because these technologies have gotten so close to each other in terms of what they can deliver as a final result, in some situations we can allow the patients to make the decision for themselves as to what type of braces they prefer. Whether it is using traditional braces, Invisalign, or sometimes a combination of the two, Dr. G. Bradley Gottsegen will help you determine which treatment option is right for you. View our video below to learn more.
Metal Braces
Traditional metal braces are the most common type of braces used today.  They are smaller and more comfortable than ever before and constructed of high-grade space age metal alloys. With metal braces, you have the option of adding colored elastics (rubber bands) for a more unique and colorful smile. At Gottsegen Orthodontics, we use only the highest quality and most efficient self-ligating brackets available on the market.

Ceramic Braces
Ceramic braces are made of clear sapphire crystal and are therefore less visible on your teeth than metal braces. For this reason, ceramic braces are used mainly on teenage and adult patients who have aesthetic concerns. The only drawback to ceramic brackets is that they are more fragile than metal braces, so a bit more care must be taken to ensure the appliances remain intact throughout the course of treatment.

"Invisible" Braces
Clear appliances, such as Invisalign, use a series of nearly invisible, removable, and comfortable aligners to straighten your teeth. Most people can't even tell you are wearing those aligners because they are almost invisible! Invisalign aligners are removable so you are not limited in what you can eat and drink during treatment. Plus… brushing and flossing are less of a hassle. The aligners are comfortable and have no metal to cause mouth abrasions during treatment.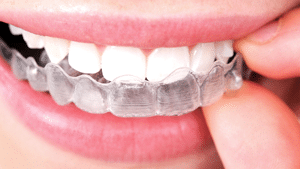 Invisible Braces (Lingual Braces)
Lingual braces are the invisible alternative for patients who don't want to wear braces or when Invisalign is not an option. Placed behind your teeth, no one will know that you are wearing braces unless you tell them. These unique braces are created using state-of-the-art technology and are 100% customized to the shape of your teeth and dental situation. Lingual braces have the unique prescription that Dr. Gottsegen creates for you, built-in to ensure you get the results that you want. With lingual braces you get efficient, effective tooth movement with great aesthetics.